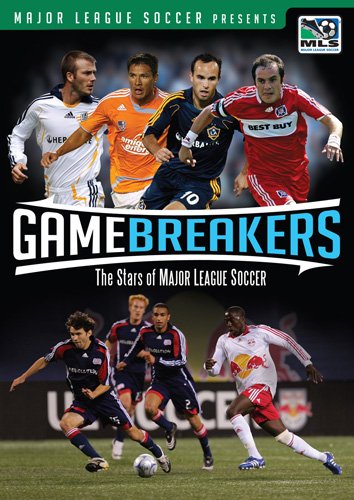 In my never-ending quest for quality entertainment, I recently discovered that MLS has put out a new DVD for me to add to my collection. It's called "Gamebreakers: The Stars of Major League Soccer", and it allows me, the viewer to, "(c)elebrate the exhilarating action of the world-class stars of Major League Soccer with a high-energy look at clutch, game-winning moments steeled in the red-hot forge of the beautiful game."
Wow. Somebody give that writer a raise. Or, at very least, a chocolate chip cookie.
Based on my previous MLS-related DVD purchases of the "2007 MLS Cup", "MLS's Greatest Goals", and the "1999 MLS Season in Review"*, I expect a high-quality production.
*(I always wondered why there was, to my knowledge, only one such seasonal review on DVD. What was so great about 1999 that it was the only season that warranted a seasonal review? I thought 2000 was a decent season. So was 1998. In fact, I'd actually love to see a 1996 seasonal review, with full visuals of the league's awesomely bad kits, just to have something to fry my retinas with.)
Oh, and that pic of Jozy Altidore racing down the pitch? I remember that match. I believe he hit paydirt on that play. And look who's in the background. For shame.
******
Perhaps this topic deserves its own post.
Some of you may know that, in addition to my love for soccer, I also happen to be a baseball fan. The cool thing about baseball, besides, you know, that it's a joy to watch, is all of the statistics involved to measure success or failure. In fact, the study of specific statistical categories is colloquially known as "Sabermaterics" (Society for American Baseball Research, or SABR, plus metrics...get it?) What sabermetrics attempts to do is measure the true value of a baseball player through measurable stats which indicate how good a player is.
Now, I've been rolling this idea around my brain and trying to apply a similar standard to soccer players. There's a stat in baseball called Value Over Replacement Player, or VORP, which, according to the demi-god known as Wikipedia, states:
"is a statistic invented by Keith Woolner that demonstrates how much a hitter contributes offensively or how much a pitcher contributes to his team in comparison to a fictitious "replacement player," who is an average fielder at his position and a below average hitter. "
"A replacement player performs at "replacement level," which is the level of performance an average team can expect when trying to replace a player at minimal cost, also known as "freely available talent." "


I think the player that would benefit most from this stat is Shalrie Joseph, a guy who doesn't put a bushel full of goals into the back of the net, no does he just rake on assists. But we can all agree that his value is there, we just haven't figured out a way to quantify it into numbers.
I would venture to say there is a way to calculate how many times during the course of a match SJ takes a pass from a defender, then distributes it forward with accuracy X % of the time. The accuracy can be measured. It's either failed service or a successful pass. You can measure that. You can measure the success rate on these passes, and how often the team eventually scores on these sequences as a measuring stick for how valuable SJ is over a no-name, average central midfielder that seems to worm his way onto any given MLS roster.
Yeah, you know who I'm talking about. No names necessary. This is a family blog.
*******
I'm a political creature. I firmly believe it was no accident that I attained my BA in political science - and in less than six years. It was my destiny. When I was a baby, the gods reached down and turned my brain into a superanalytical instrument.
So there are times where I literally have to stop myself from typing out my opinions on current political affairs here whereby I take a mallet and smash my fingers repeatedly so that they swell like an inflated latex glove*, and am unable from typing anything coherent. It takes me out of action for a few days.
(*Like in the cartoons. I believe this occurred to Tom Cat from "Tom and Jerry" the most often, by my unofficial count.)
But, I've let my guard down to just breifly share my thoughts on how cool I think it is that Sarah Palin, the Republican Vice Presidential nominee (in case you've been shunning modern technology and have not heard the news. By the same token, you would also be shunning the technology associated with this online blog....so I pretty much just typed thirty-eight unnecessary words) is a former sports journalist.** Not just that: she was also poli sci in college! What can I say? That kind of news inspires me. Inspires me to dream. It inspires me to eat my broccoli without Velveeta. Maybe there is a big world awaiting me outside of this blog!
(**By no means should this be construed as an official endorsement of the McCain/Palin ticket. Vote for the candidate who you feel will slow the delivery of the handbasket this country's in.)